Portable Traffic Lights
Portable Traffic Lights (PTL) by Data Signs are RMS Type Approved for use on NSW Roads and built to recently updated Australian Standard AS 4191:2015 for Portable Traffic Signal Systems, and to Australian Design Rules for Trailer Manufacturing. PTL's are an integral traffic management tool for use on roadwork sites or for event traffic control. Data Signs has developed an easy-to-use Controllers for use on its traffic lights.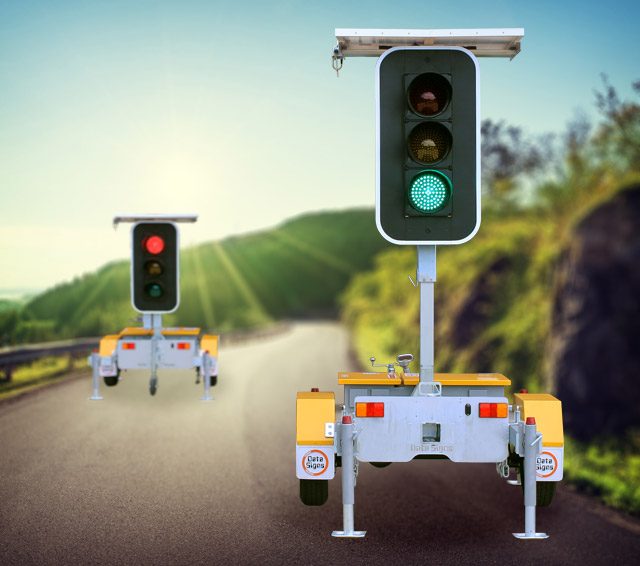 Dual-trailer set PTL (can be towed separately using optional slave drawbar) are solar-powered with maintenance-free batteries for continuous operation. The 200mm aspects use ultra-bright LED's for optimal viewing. The PTL sets maintain constant RF (radio frequency) communication with the each other, as required by Australian Standard AS 4191:2015 for Portable Traffic Signal Systems.
Normal RF operating range is up to 1.6km line-of-sight, with our hi-gain directional antennas installed as standard subject to environmental conditions or Hardwired Option where Line of Sight cannot be achieved.
Distance limited by max 'all-red time' (300 sec's) depending on speed in road works site and subject to safe work site requirements. Line-of-sight.
Features include quick one person set-up, extendable outriggers for greater stability, full electric mast, hot dipped galvanised chassis, industrial paint finish and powder coating.
The unit can be controlled using 1) the actual PTL Control Panel 2) an optional PTL Remote Control or 3) by a mobile phone by installing our PTL™ mobile app designed for Apple and Android phones or 4) via the DS-Live programming platform.
Optionally a PTL can be fitted with a radar unit to switch the lights on demand as a car approaches the traffic light.
We have a suite of PTLs to suit various situations and usage. PTL Trailers are the top of the range with a robust design that can be left unattended. PTL Compact is a lite foldaway version of the PTL trailer for simple short term usage on a site. PTL Stop-n-Go is our latest product replacing the Stop/Slow Hand Baton or Lollipop Sign to keep your road maintenance team safe.
Click the image for more information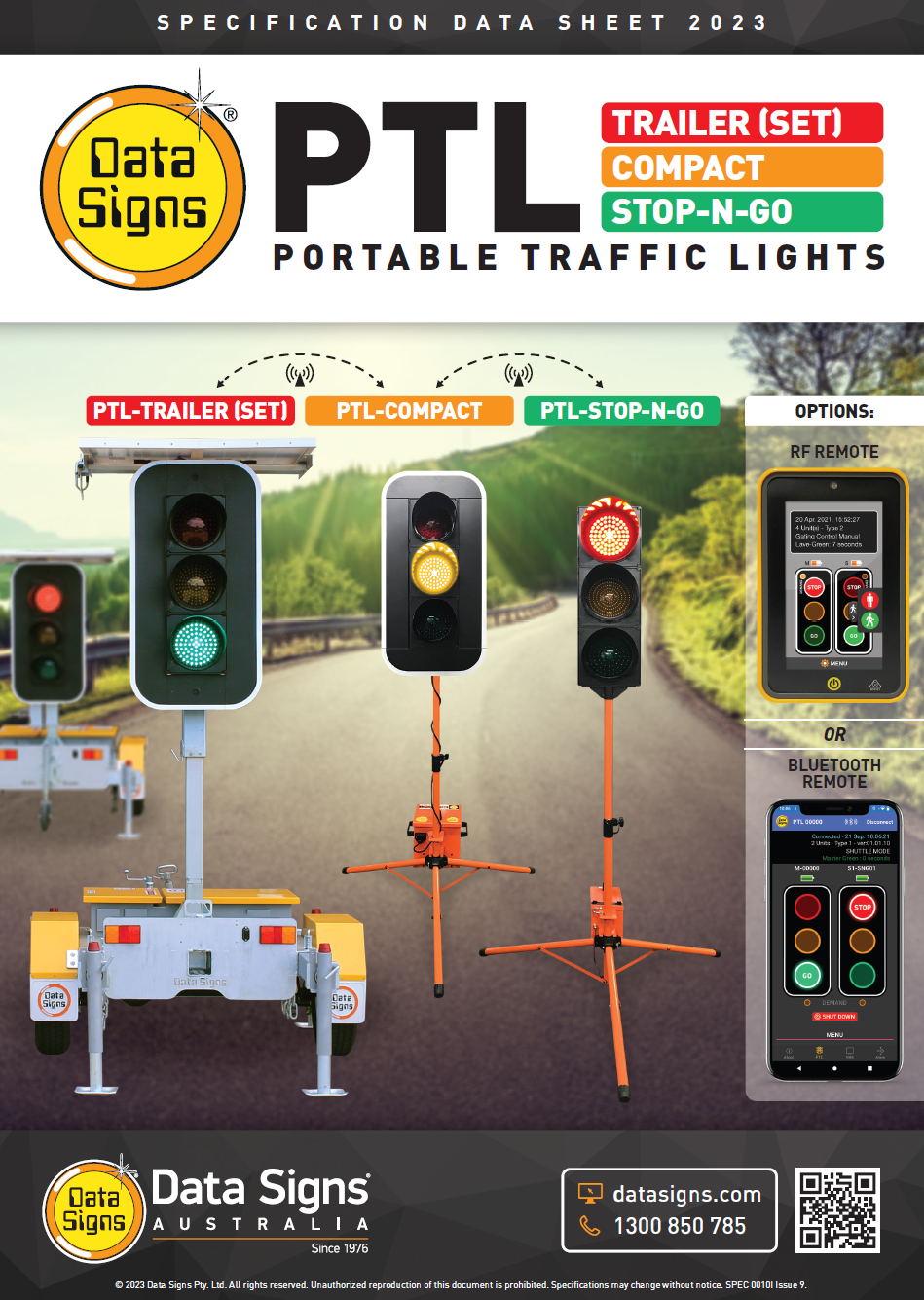 Various operational control functions are available; multiple-set functionality for 1-6 way applications, include:
2-Way Plant Crossing Control
2-Way Shuttle Control
3-Way Shuttle Control*
3-Way Intersection Control*
4-Way Intersection Control*
Multi Daisy-Chain*
*Note - These Mode(s)/Function(s) do not form part of RMS/RTA Type Approval